Category: Services
Published on Friday, 16 November 2018
Written by Tayo K. Solagbade
Subscribers to my mailing list and clients respectively have received variants of this year end promo offer. Some have taken it up. 
You, as a visitor to this site have the opportunity to be one of ONLY FIVE people who I will take on for this version of the offer.
TEXT "YES-INNER-CIRCLE-50k" TO +234 803 302 1263 TO CLAIM YOUR SLOT & BOOST YOUR SUCCESS INTO THE NEW YEAR!
The purpose is to give interested persons a LOW FEE entry to access solutions I offer, and in the process gain SHARE OF MIND so that MORE people discover what I can do for them - and hopefully talk (good) about me.
This is on a first come first served basis, and expires MNT 30th November 2018.
Category: Services
Published on Thursday, 07 September 2017
Written by Tayo K. Solagbade
I employ creative writing on topics relevant to my target niches, to generate a relentless stream of smart marketing writing content to cost-effectively promote the different solutions I offer. This has boosted my name/brand recognition, earning me increased followership, mentions, as well as quality sales leads. If you're looking for a writing professional you can engage and feel safe with, you're in the right place. Here are specific examples of ways in which I can help you: 1. Book Writing
Read more: Response Generating Writing & Web Marketing Solutions
Category: Services
Published on Tuesday, 21 June 2016
Written by Tayo K. Solagbade
My Offer: To Support Your Business with ONE YEAR (12 Calendar Months) of Multipurpose Web Marketing Services (& Education) Specifically, I will do the following for you: 1. Build and promote your brand ONLINE Specifically, I will....
Category: Services
Published on Sunday, 14 August 2016
Written by Tayo K. Solagbade
This is a generic introduction page for my Excel Heaven Visual Basic Club. By taking the decision to learn how to automate MS Excel using Visual Basic for Applications (VBA), you put yourself on track to boosting your productivity in terms of your data handling, analysis and report generation abilities. Whether you an independent consultant or career person in paid employment, knowing how to automate MS Excel using VBA is a tried and tested means to outperforming your rivals or competitors. But learning to automate MS Excel using VBA is NOT easy work - you will NOT be able to do it overnight.
Continue reading...
Category: Services
Published on Thursday, 08 January 2015
Written by Tayo K. Solagbade
"Join MY Inner Circle for $160 USD per year and Get custom Farm Business Software, Business Plans, Information Products, Freelance Writing, plus Web Marketing, & Software Development Services – ALL at 65% off for LIFE! " – Tayo K. Solagbade
Every Inner Circle member gets a PERSONAL login username and password access to benefits PDF membership certificate issued to members.
Quarterly ($40 USD) & 6 Monthly ($80 USD) memberships available, but 50% off, not 65%.
You can pay:
a. in cash or b. by purchasing paperback books from my online store equivalent to $160 USD.
Examples of What You Get at 65% Off…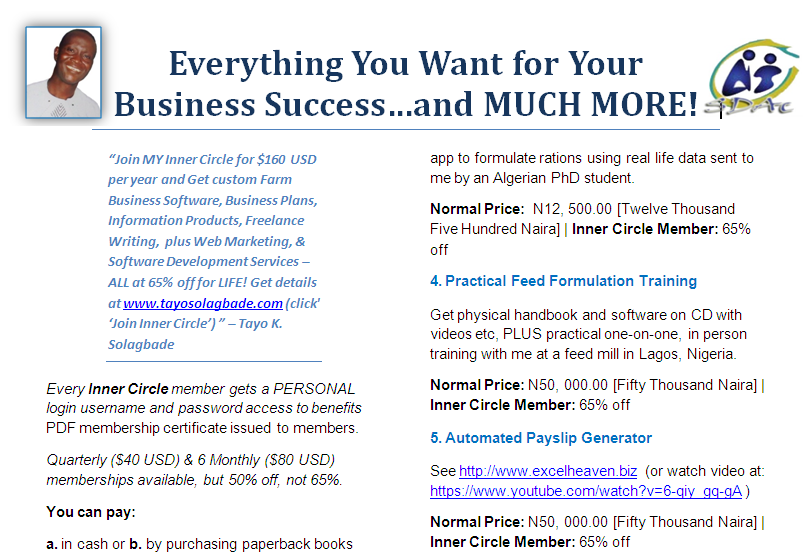 Alternatively....