Your "

Over

" Ten (10)
EXTRA Gifts!
As promised prior to your signup, here are the other resources with their direct download links.
Simply use the username and password supplied in the email autoresponse you received, at the login dialog box that will appear for some of them.
You only have to do that once, and you'll be able to subsequently continue your downloads without interruption.
Thanks once again, and I look forward to sending you more useful resources through my blogs and newsletter broadcasts!


Tayo K. Solagbade*
Performance Improvement Specialist & Multipreneur
*Sole Agent For Burt Dubin's Speaker Mentoring Service In Africa

Mobile: +234-803-302-1263 (in Nigeria) or +229-66-122-136 (in Benin Republic)

http://www.tayosolagbade.com
YOUR

GIFTS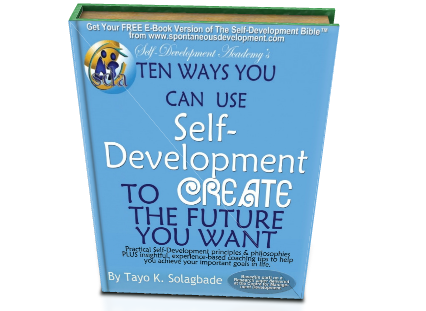 Above: This print version has been selling for $13 USD in my online store since 2005.
2. Proven Techniques (and Strategies) You Can Use To Start & Finish Writing ANYTHING!
3. Introduction To Public Speaking For Business Marketing (PDF)
This report explains why public speaking remains a powerful way strategy for cost-effectively marketing your products and services to large numbers of people at once - especially when you have a limited budget. It's been used for decades by the smartest and most successful individuals and businesses in the world. You can learn to use it too.
4. "To Win NEW Customers Repeatedly & INEXPENSIVELY, Use Your Public Speaking For Biz Marketing System(PSBM) ™!"
http://www.tinyurl.com/tpsbmok
5. Employee Morale Gauge(.xls)
Use my customisable Employee Workplace Morale Survey Quiz (approx 23.5KB) to measure how your employees, reports or team members feel about working with you/your organisation. I used this 10 item questionnaire for the management research survey I presented a paper on, at the 1999 edition of the Nigerian Institute of Management's Young Manager's Competition.
This download was created to support my article titled "Are Your Employees Happy & Satisfied With Their Jobs? (A Ten Item Quiz That Can Help You Find Out)". In 2008, this article was republished - with my permission - by India's ICFAI University (with Sangeetha K. as author) in their 252 page journal titled "Employee Morale: Concepts and Cases" now on sale here (see item 14).
CLICK HERE to download the quiz template >>
6. A FREE Chapter from my popular Practical Livestock Feed Formulation Handbook
7. Farm Resuscitation Action Plan Document (.zip)
I prepared this plan for resuscitation of a client's catfish farm (It comes zipped along with an article titled "Catfish Farmers, Beware Of Uncontrolled variable Costs!"). This is a very useful reference tool.
8. One-Page Integrated Fish Farm Micro-Business Plan
Approaching busy prospective investors requires smart thinking, especially at first contact. Boil down your offer to the bare essentials. One to two pages usually work best. You'll get some ideas from studying this PDF.
9. TEN WAYS TREAT: Give Someone An Enduring Gift!
Download this tightly written and edited ten (10) page transcript of my Ten Ways You Can Use Self-Development To Become A High Flyer At Work talk, and send it to those you care about. They will be grateful to you!
10. Action Plan/Progress Evaluation Checklist Template -(.pdf)
This checklist will force you to document up front, the various key tasks you need to perform in order to achieve your set goal(s) over a defined time period. You will also be able to record DATE ACHIEVED next to each task successfully completed.
11. "Become UNSTOPPABLE!": An Inspirational Mind Map Based On Abe Lincoln's Life(.xls)
This MS Excel-based mind map was created to support my article titled Become UNSTOPPABLE By Having "Blind Faith" And "Refusing To Recognise Failure".
12. SPECIAL REPORT: Your Company May Be Losing Money By Retiring Employees When They Clock 60 Years - And Above! ".
| | |
| --- | --- |
| | The title is provocative. But it's message is based on scientifically established facts - references supplied. If you run an organisation, or have to manage people, you'll find it a VERY useful read. Every working adult needs to read this report because it uncovers a massive LIE that's been burned into our thinking from our youth. Correcting this wrong thinking can help YOU maximise your full potential in life right into your 90s! |
(13) A FREE subscription to my weekly Public Speaking IDEAS email newsletter and updates.
(14). A 2 chapter free PDF preview of my latest ebook (WHY YOU KEEP FAILING TO ACHIEVE YOUR WRITING GOALS! (10 Habits That are Holding You Back and How to Change Them for Good!), now on sale in my online store at www.lulu.com/sdaproducts.
(15) FREE Preview version of my Quick & Dirty Guide To English Language for French Speakers...and to French language for English speakers! (including sample audio file from the guide - MP3 format)
Here are the links to the Quick & Dirty Guide To English Language for French Speakers (...and to French language for English speakers!) - including one of the audio files that work with it - in 2 formats
http://www.tayosolagbade.com/uploads/qdg.xls
http://www.tayosolagbade.com/uploads/comment-va-votre-femme.mp3
(16) My 11MB audio MP3 presentation titled "Why I'm Traveling SLOWLY Across West Africa to Show Business Owners, Experts & Professionals How To Use Public Speaking & Web Marketing Systems for Low (to ZERO) Cost Business (or Self) Promotion" - view transcript here
Click the link below to download it:
http://www.tayosolagbade.com/uploads/lie-audio.mp3
(17) My 11 page resume
http://www.tayosolagbade.com/uploads/tayosolagbade.pdf
---
About Tayo Solagbade
Self-Development/Performance Enhancement Specialist - Tayo Solagbade - works as a multipreneurial freelance writer providing zero risk article and report writing support for website owners, while travelling slowly across West Africa as a Location Independent Multipreneur.
He's presently based in Benin Republic, where he's preparing an English-French Language Guide, City Travel Guides, and a Commercial Rabbit Farming Guide.
In a previous life, before leaving to become self-employed, Tayo served for seven years as a high performing manager in Guinness Nigeria. He rose from Shift Brewer, to Training & Technical Development Manager, then later acted in senior management roles as Production Manager and Technical Manager.
When he's not amazing clients with his superhuman skills (wink), Tayo works as the creative force behind his Self-Development Nuggets™ blog, and Public Speaking IDEAS newsletter (which he publishes to promote Burt Dubin's Public Speaking Mentoring service to experts working across the African continent).
For a limited time, Tayo is available to speak to your group or organization for a moderate fee. Send e-mail to tayo at tksola dot com. You can also visit www.tksola.com to learn more.
Connect with him on Twitter @tksola.com and Facebook.